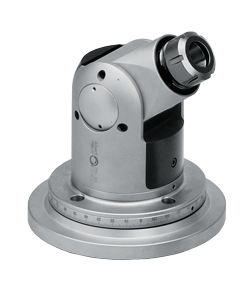 ADJUSTABLE TCU-2.5/TCU-3.5
Modular Series angle heads are flange mounted to the spindle of traditional machine tools. The T-slot on the universal flange facilitates positioning the head 360° around its vertical axis. The body length of modular series heads may be extended by using optional extension spacers.
Get a Quote
Models: Adjustable: TCU-2.5 | TCU-3.5
BEARINGS
Super precise ABEC 7 and 9 Class Bearings. They ensure perfect concentricity and stability during machining.
GEARS
Gears are made out of special hardened super alloy. They are completely ground and treated with isotropic polishing that results in a dramatic reduction of vibrations and friction.
SOLID OUTPUT SPINDLE
Solid piece spindle made out of hardened steel to increase resistance to bending stress by up to 25%. Achieve higher RPM without vibrations.
GS 600 TOOL BODY
Increased thermal stability and rigidity compared to materials such as steel and aluminum. Bearing housing surfaces are completely ground.
MECHANICAL SEALS
Special composition low friction seals reduce heat build up and keep contaminants out. High pressure rotary joint allows up to 100 Bar Coolant Pressure.