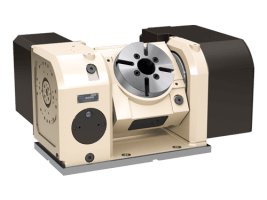 TBS Series
A new line of high accuracy, high rigidity, energy saving and zero maintenance rotary tables from Tsudakoma. The TBS Series rotary tables are built using the new ball drive system featuring advantages like zero backlash, improved cycle times, energy conservation and a lifetime adjustment-free transmission system.
Get a Quote
Models: TBS-130,H | TBS-160,H | TBS-250
NO BACKLASH
There is no "Play" in drive system components.
HIGH RIGIDITY
During table rotation, 4-5 balls are always in contact with cam shaft. It creates a rigid system especially in no clamping operation.
TORQUE TRANSFER EFFICIENCY
High torque transfer by ball rolling mechanism compare with sliding mechanism of worm gear.
HIGH SPEED INDEXING
Thanks to high torque transfer efficiency,  gear ratio can be reduced compare with worm gear system in order to increase max. rotation speed.
HIGH ACCURACY
Each component parts are manufactured in very high accuracy, and assembled accurate. Particularly, accuracy in one revolution of cam shaft is very high.
LONG LIFE, MAINTENANCE FREE
According to repeat rotation test, there is no change of accuracy found. Therefore, no mechanical adjustment or maintenance is required after certain term of use.